Balance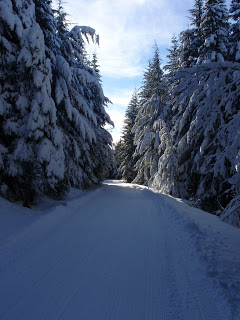 Sure, it's been cold. But it hasn't been that cold. And yes, it's winter, but compared to other winters we've had lately, it's been pretty dry and easy-going. By this time last year, we'd already had significant snowfall here at sea level and there were at least a half-dozen mornings where I'd broken through a bit of plate ice on my morning paddle. Not so this year.
They say it may change this weekend. Or by Monday, anyway. A front is on its way, which is weather-code for precipitation, and with temperatures forecast to fall, snow is a possibility once again.
It's one of those sweet-and-sour predicaments… too little snow and the skiing crowd is despondent; too much and you can't get up to where you wanted to go because the roads are impassable. (I'm not talking about the resorts. Money keeps those roads open, fuels the apparatus that makes more money.) It's the backcountry spots, where there's a chance of spending a day beyond the reach of the madding crowd, that are harder to get to when the snow falls too heavily. You can buy your snow park permit, but it doesn't guarantee you'll be able to make it to the snow park.
I'm going up to the mountains in the next few days, before the big dump comes (if indeed, the big dump is coming.) I'm hoping for the right balance of accessibility and white stuff.