Baidarka tales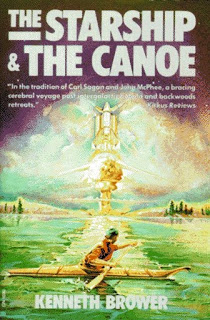 In the waning days of 1986, I was living in Ketchikan, Alaska, in a decrepit old house on Front Street with about 27 roommates. (Ah, those carefree days of intense poverty and random all-nighters.) I remember picking up a book that was laying around and thumbing through it for a while, a picture book about the skin kayaks of George Dyson. It was a coffee table kind of book, lots of lush photographs and short prose, and it was absolutely captivating. The name of the book was
Baidarka
… I have a copy of my own now and I still get it out from time to time, when I'm looking for inspiration.
Another book that covers some of the same territory – albeit without the photos and with a great deal more biographical depth – is the one that I'm in the middle of re-reading right now: The Starship and the Canoe, by Kenneth Brower. It's a tale of the intertwining lives and destinies of George Dyson and his father, the genius mathematician Freeman Dyson, set largely in the wilderness of the Inside Passage.
This isn't a book review and, in any case, this is a book that has been around for 30 years or more, so reviews should not be hard to find. If that's what you're looking for. I only bring it up now because, as I turn through its pages, I am struck again by the way that kayaks – and kayaking – are presented. This is a tale of the freedom and the adventure that sea kayaking has to offer, the amazing lineage that kayaks claim and the future possibilities that await this most noble of seagoing designs. It's the kind of book I don't see enough of, and I'm not exactly sure why.
There is no talk of skills training, off-side rolls, edging technique or certification programs. ("Not that there's anything wrong with that," to quote Jerry Seinfeld.) Indeed, there's no reason why the world of The Starship and the Canoe can't be part of a continuum that includes the more recently published kayaking holy books and the relentlessly erudite micro-topics of some popular paddling texts. It just seems to be above them somehow, at least to me. It reminds me of why I love the whole concept of kayaking.
And that is reason enough to read it again, for the umpteenth time. If you haven't done so yourself, it is high time that you did.