Back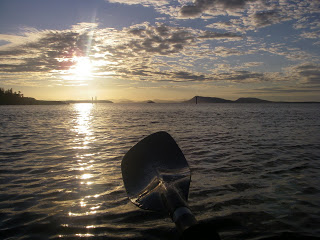 The northern tier of the San Juan Islands is a special place, one seemingly made for paddling. Distances are short between the islands but the strong currents make each crossing a chance to exercise navigational skills as well as muscles. There were several times this past week when I had to dead reckon our passage through thick fog from one shore to another, using the compass and what I knew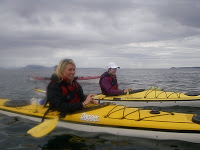 about the currents to get our group across safely.
Sucia, Patos and Matia: possibly the three most beautiful islands of the entire group. The weather was sweet and sour, not much rain but enough that we felt damp most of the time. I was surprised by how many pleasure boats were still up there, even after Labor Day has come and gone. There were some other kayakers, including one huge group of Outward Bounders, but most of the people we saw were of the power boater clan.
In terms of wildlife, there were a few surprises. The seals were there, and a few otter, but I also saw a few snakes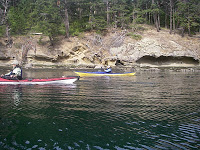 (on Patos), and an octopus. The octopus was on shore – looked like he was dining on some mussels – and he slithered toward the water as I approached. I could see his eyes, watching me, as he made his way back to safety. I briefly thought of trying to grab him – I've always wanted to wrestle an octopus – but I changed my mind fairly quickly when the opportunity presented itself. Maybe next time.
There were porpoises too, almost every day, but no eagles. Which may be a first for me, to go to the San Juans and not see an baldy. The fish must be somewhere else.
I have a pile of wet gear to go through today, sorting, drying, cleaning. The hardest part of kayaking, doncha know.