Armageddonish, with a chance of rapture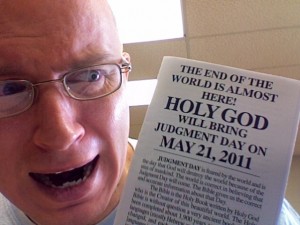 The world is supposed to end today, at 6:00pm local time. (I have my doubts, since it's already past the appointed hour in Sydney and things still seem to be functioning normally down under, but just in case you didn't get the word, consider this a public service announcement.) Check
here
for a view of the loopier side of free speech.
I don't know much about doomsday, but I do know about yesterday. Temps got up to 71 in my neighborhood, which is the first time the mercury has topped out above 70 degrees in 198 days. That's more than six months. I'd heard a week or so ago about how this spring has been the coldest on record, with only 5 days above 60 degrees since the 1st of the year, and right about now the whole climate scene is getting, well, tiresome. At least on the local level.
Then again, if the earthquakes and the pestilence kick in later this afternoon as the tinfoil-capped apocolyptos say it will, a few degrees here and there will probably not make much of a difference. We're an hour away from sunrise and I'm going paddling. Could be the last chance I'll ever get and I plan to enjoy it.