Amber Steim – a retrospective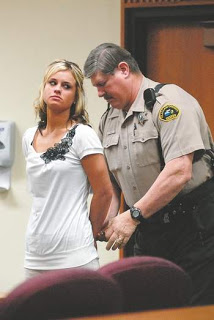 It feels like it's been going on longer than it has, this whole Amber Steim legal thing. A year ago I didn't know her name – and I was perfectly fine with that – but times change. In case everyone hasn't been staying up to date on the who and the what of her criminal life and times, here's a recap.
It was a winter Sunday morning when Ms. Steim's car crossed the center line near Joyce, WA, and plowed into Ellen DeBondt's pickup truck. DeBondt was a hospice nurse out there in Clallam County, as well as an active member of the Olympic Peninsula paddling community. Along with her husband, Ken, Ellen was the prime force behind the popular La Push Surf Pummel, an annual gathering of surf kayakers and other wave-riding fanatics.
When the police arrived at the accident scene, DeBondt was dead and Steim was drunk. Stinking drunk, especially considering that it was now a Sunday morning, no longer a Saturday night. After blowing a BAC that was triple the legal limit, Steim went to jail, where she tried to manipulate family and friends – via jail phone conversations – into providing false testimony in her favor. (It's called "witness tampering," and those charges will be part of her upcoming trial as well as the vehicular homicide).
She made bail, $100,000, then violated the terms of her bail by drinking, which was detected by her monitoring bracelet. She fought the data, and lost – just a few days ago – with the judge ordering her back to jail and increasing bail to $500,000. Not sure what this means exactly, in terms of whether she'll stay as a guest of the State until her actual trial finally begins in February, but we can always hope.
The above is a recap of the facts in the case. Now for the speculation and opinion: I have to say, there is something incredibly gratifying about seeing a photo of Ms. Steim in cuffs, with her smarmy courtroom demeanor turned to a nervous grimace at the hands of the bailiff. Knowing she'll be trading in her sweet jeans for a floppy County jumpsuit only makes it that much better. When this whole ordeal began, I had a more open mind… in the abstract, I believe in the rights of the accused and the notion of innocent-until-proven-guilty. I didn't come down on her too hard, internally or externally.
Her legal gyrations since those early days have changed my mind. The one constant throughout the process has been her unwillingness to accept responsibility for her actions, her slippery manipulation of the justice system in pursuit of making her own situation better, rather than looking to atone for what she has done. If – and I wonder about this often – if she had pled guilty right from the start, claimed her actions and owned the consequences, how much better this whole thing could have been. For all involved. It still wouldn't bring Ellen back, but then nothing will. It would, however, have set the stage for redemption.
But redemption is out of reach for the unrepentant. Regardless of her eventual sentence, and I hope it's a long one, the bloody, drunken nightmares will continue for the rest of her desperate life.