Amber changes her mind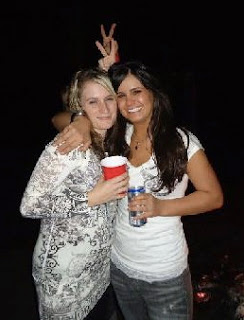 "I didn't do it!"
"I didn't do it!"
"Yeah, I did it."
After a year-and-a-half of legal posturing and delay tactics, mixed with hubris and an utter disdain for any kind of personal responsibility, Amber Steim (that's her above on the right, in her natural environment), may be willing to plead guilty to taking the life of Ellen DeBondt last March. Drunk beyond belief, behind the wheel of a speeding car, she plowed into Ellen's truck just west of Port Angeles on a misty Sunday morning, killing her instantly and thereby upping her total of innocent people killed by her complete lack of driving abilities to two.
Amber's spent the last 18 months denying responsibility for the accident. "I was drowsy. The road was slippery. My brakes were bad. I didn't start drinking until after the collision." All these and more were offered up as trial balloons to see if they might float her out of jail somehow, and avoid her having to take any kind of ownership for her actions. She took all this time, trivialized Ellen's memory and wasted thousands of tax dollars, looking for any kind of way to turn this into any story that wouldn't focus on how much of a mouth-breathing drunk mess she really is.
And now, according to her attorney, the wheezing, overfed gentleman who has consistently advised Ms. Steim to take this approach, he and his client are
ready to plead guilty
to vehicular homicide and reckless endangerment. Which is what they should have done in the first place. I suppose we should all be grateful? 
Of course, this all may be part of the smoke and mirrors that have characterized Ms. Steim's defense all along; it could all be part of the act. I don't know what to think anymore, which is exactly what the defense wants.