Advice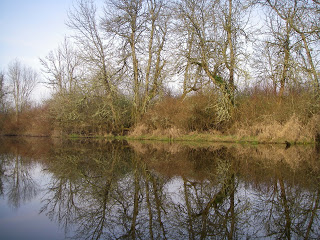 It's four in the morning and I can't sleep. I'm sitting in front of the computer, looking ahead to the
Olympic Grand Circle
, next year's planned circumnavigation of the Olympic Peninsula. It's been done once before, that I am aware of, and I am hoping to do it in one continuous loop next July.
Jordan Hanssen and Greg Spooner, the rowers who made the trip last year, pointed to the swamp at the south end of Black Lake as being the most difficult section of their expedition. Two days of hacking through thick vegetation made navigation difficult, made it hard to know which way to go. They credit navigation guru David Burch with assisting them through the green maze, keeping them on course, and getting them through to more navigable waters.
For the uninitiated, Burch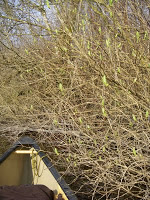 runs a program in Seattle called Starpath Navigation that offers courses and guidance in the art of finding one's way. He's a legend in the double-bladed world for being the author of Sea Kayak Navigation, the Bible of on-water route finding that kayakers have been using to hone their skills for over a decade (now in its 3rd edition, 4th, 5th?) I wrote him to see if he had any advice for me as I start my planning, especially as it pertained to swampy Black Bayou.
"I think you must use a GPS for this trip," was the thrust of his reply, "and other special technology to get through the swamp." (I had mentioned in my query that I was not planning on using a GPS.) "If you insist on not using a GPS, however, we cannot help you, because any judge in any court case that might materialize would call it negligent…. in fact, you cannot even argue in court that you had a GPS but lost it or it failed. They would ask why you did not use your back up."
The obsession with technology continued, and forgive me, but it sort of turned wierd. "There is also no virtue to claiming you did it without a GPS," Burch went on, "primarily because no one would believe you in that a GPS could be in your watch, cell phone or belt buckle…. etc."
No one would believe me? Really? That seems almost as strange a concept as thinking that I might try to secrete a unit in my phone or elsewhere, and use it while claiming to be without one. I am not a technophile, or even marginally technologically literate. My friends know me and they know this is true. Who else has to believe me?
The statement that really got me though, was this one: "In short, if they did not exist, you would be fine, but since they do, you must use one." Again, really? Because the technology exists, I have to use it? Then why would I paddle anywhere? Outboard motors are so much more efficient. I could cut the expedition length down to a few days instead of a few weeks if I would just use a speedboat. I am inclined to think that, even though the GPS does exist, I will still be fine if I don't use it (same as it used to be). Don't get me wrong, I'm not on some wrong-headed crusade against satellites and I don't see myself as a paddling Luddite – I do, however, reject out-of-hand the notion that, simply because something has been created, I must avail myself of it.
I may, in the end, use a GPS on this trip. It would be my first time, but I can see it being a part of my navigational tool chest. Then again, after this letter and with the way I'm feeling right now, I'm just as likely to not.