A walk in the park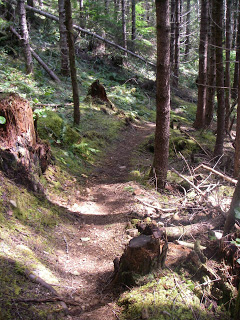 There is the skeleton of a trail that runs between Jefferson and Clallam counties, a trail that will someday connect Port Townsend with La Push. Using miles of former rail right-of-way and land donations, along with negotiated use agreements, the
Olympic Discovery Trail
is currently about 30% completed with another 30% funded and scheduled for construction.
It's the western end, the part between Lake Crescent and the Pacific, that is farthest from completion. When it is finished, however, the route will offer a unique insight into how this portion of the Olympic peninsula was first settled and connected with the outside world. Most of the commerce and travel was conducted via the sea; overland travel was all done on tracks and trails much like this one.
And it wasn't that long ago.