A Trip report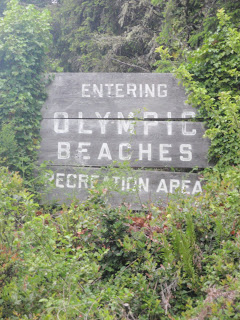 I took the southern route to the peninsula this time. Just a little over an hour to Aberdeen, then west to State Road 109, the slow road up the coast, to check out the ocean beaches. Along the way, I visited some of the shoreline access points for a new guide book, stopping here and there all the way up between Ocean Shores and Moclips. I had plans to go to Taholah, but I decided to save that trip for the next day, and got on the Moclips Highway for the 20-minute connection to Highway 101.
That road comes out right around Lake Quinault. From there, I kept heading north and west on the 101 until I got to Queets. The wide river was flowing swiftly past the small community, the banks green with new growth poking up through the giant logs brought downriver by the floods.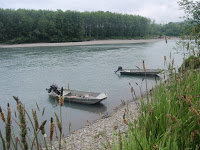 Fishing boats, tethered to the shore, waited in the silty water. I get the feeling that not much happens in Queets. It's a town that is hard to see from the highway, even if you're looking for it; nothing happened while I was there, anyway.
It was getting dark, time for me to start thinking about finding a place to camp. I turned off 101 onto an unmarked gravel road not far from Queets. At one time it had been a logging road, but it had been a while since any trucks had passed this way. The alders along the side of the road grew thicker as I continued and the road closed in to the point that I could hear branches scraping the sides of the van as I drove slowly on. There weren't many turns in the old roadway, no chance to extricate myself even if I wanted to do so, but after a while I could make out where the brush began to thin up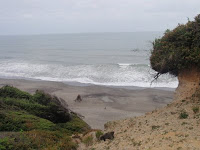 ahead, a light at the end of the tunnel, as it were.
I broke out of the woods onto a cleared patch with a million-dollar view of the ocean and the beach 200 feet below. A "territorial view," the realtors would say. There was some trash, a few signs that I was not the first to be here, but I was the only one at the time. I had the entire place to myself, which is just the point.