A Tidewater concerto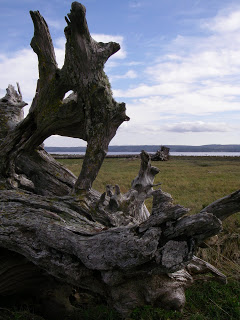 It is the sound, the sounds, that I will remember best. The entire mix of noise and noises. The muffled wingbeats of a merganser, flying low along the water. Almost audible whirling vortices slice off his wing tips, casting ripples on the surface. Clicks of some insect, I don't know what, but they sound like they're coming from everywhere at once. And then they stop.
The slowly rising sonic intensity of a little flock of geese coming in low and fast across a flattened table-top landscape. The honks and squawks of a close-knit band of birds, each note of their solos clear and distinct.
Kingfishers provide some of the percussion, their chit-chit-chit firing through the calm afternoon air. Heron in the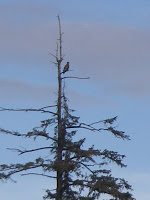 tidal mud add their own form of prehistoric commentary, like cast-off lines from Jurrasic Park. I can hear the distant shrieks of an eagle perched atop a nearby cedar.
In the background is the gently oscillating sound of the river. The end of the Dosewallips, where the mountain fresh snowmelt mixes with the salty water of Hood Canal.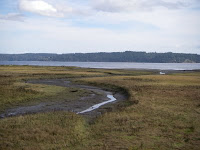 The river mouth is shallow now. The tide is out and the flow is at its lowest for the year. (Soon, the rains will come and the rivers will all rise.) I can hear the tinkling of the moving water crossing the stones, the pools and falls of the river's end.
At some point, out of neccesity, I open my eyes.