A Sunday morning paddle
Another morning, heading out of town before it gets light. Again. I'm ready for summer and the winter hasn't even officially begun.
I know I will have to learn to cope. And dress warm.
Like I am this morning. I'm putting in at Potlatch State Park for a quick paddle into the Skokomish delta. It has begun to snow again, but the water is calm and I can see the other shore, over near Union, clearly under the layer of haze. The real weather lies to the north. There are thick clouds, and the water of the Canal is choppy and white. It seems like it is moving in my direction, but very slowly.
The shoreline of the delta, when the tide is at this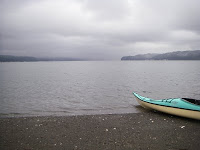 high level, is one giant, sweeping arc of a beach. Sand and gravel, mixed with generous amounts of shells and a little driftwood. At low water, I wouldn't be able to get anywhere near this point; the mud flats here are vast and there are few good routes that would work for a kayak.
I turn right at the first opportunity and my paddling environment changes. Little islands of mud and grass divide the delta into a collection of passages and coves. Private beaches, little secret spots, are scattered here and there, and although the wind has begun to blow a little harder on the outside, I can hardly feel it here.
The current is stout, once I hit the river and I keep to the edge, trying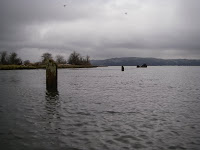 to catch an eddy. I glide past ancient pilings that once supported a buiding, that now seem barely able to support themselves. At other spots along the river bank, the muddy side gives way to shallow pockets of still water and coarse sand beaches. Clumps of trees mark the higher places.
I'm able to get upstream for about a half-hour, then I turn to make the fast passage back to the open reach of the delta. Conditions have changed in the past hour. The calm water is gone, replaced by a loppy sea coming at me from the northeast, and a strong wind, bringing plenty of snow along with it. I can see the beach at Potlatch through the wind-driven snow. It's not far to go but it looks to be a workout.
It's an exciting trip, as it turns out. The snow is falling sideways now. I can feel it sticking to my beard and I can see mini-drifts piling up on the downwind side of the decklines. The irregular waves push me around at some points, but I manage to get a few surfs in as well. It doesn't take long before I'm back where I started.
A blur of activity in the cold air and then the boat is loaded and I'm ready to go. Ah, the drive home: the most dangerous part of any kayak trip.