A room with a view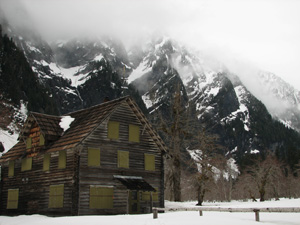 Long ago, or not so very long ago, hikers in Enchanted Valley could stay at the Enchanted Valley Chalet.
It was built in 1930 from logs of native silver fir. It's a big structure, 28′ x 41′, and two-and-a-half stories high. The corners are fitted in precise dovetailed joints. Situated as it is, in a meadow next to the Quinault River, it looks smaller.
The chalet began as part of a commercial enterprise, the Olympic Recreation Company, run by five brothers from Quinault Lake. Bricks, mortar, and construction equipment was brought by horse over the thirteen-mile trail from Graves Creek. Much of the original furniture was constructed on site. It was an economic success for a couple of decades until it was closed during World War II. For a brief time during the war, the Army used it as a forward observation post. In the mid-1950's, it was opened to the public by the new owners, the National Park Service. Vandalism and neglect eventually compelled the Park to close the building, but there were some good years there where hikers to the area could enjoy a night's sleep in this remarkable structure.
I came late to the area and have never been inside the chalet. It has been years since I have hiked through Enchanted Valley and I hear there has been major damage done to the trail as well as to the Graves Creek Road, the main access route for the area. The river, which used to be 200 feet away from the chalet across a meadow of tall grasses and wildflowers, has reportedly come to within 15 feet of the cabin walls.
I wonder what it would have been like, to look out of a Chalet window onto the exquisite scenery of one of the most bewitchingly beautiful places in the Olympics.