A Period piece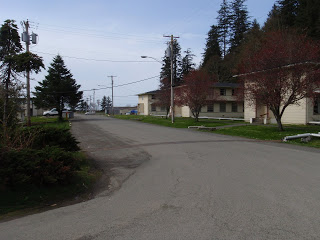 In 1988, the U.S. Air Force announced the closure of the Makah Air Force Radar Station, a 277-acre site just south of Cape Flattery near Hobuck Beach. The military had been paying the tribe an annual rent of $236,000 for the facility and at its peak, it had been staffed by 81 Air Force personnel and 26 civilian employees. The loss was a sizable one for the tribal community, where unemployment had always been an issue; the closure made it even more of a reality.
The station was one of the many "northern tier" bases that maintained an early warning capability during the cold war. At the time of its closure, it was among the oldest Air Force installations in the country. It became a radar site in 1950 after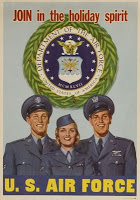 having served as an artillery spotting post in World War II. We spent those long, cold nights of the 50's and 60's watching the lime-green displays for the telltale blips coming from the Soviet Union (remember the Soviet Union?), the pings on our radar scopes that would herald armageddon. At the same time, all across Siberia, there were Bolsheviks in their bunkers, doing the same thing. It never came to that, thankfully. At least, it hasn't yet.
Responsibilities for the radar were turned over to the FAA – I feel safer already – and the base itself was passed back to the Makah tribe. It is used today as a sort of municipal center, with an automotive shop and offices for tribal representatives. There are even rooms to be rented in one of the old AF dorms, now a native hostel.
I have been on hundreds of military bases since I first joined the Air Force, back in the twilight of the Reagan presidency. They all felt like this one. It's funny, it's been over 20 years since the last time Taps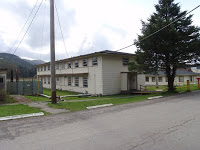 was played here on a regular basis, but I wouldn't be surprised to hear it coming through the loudspeakers again sometime, any time. The gym is still there, the hobby shop and the motor pool. You can still see the outline on the ground at the main gate where the guard shack used to stand. It's like Hahn or Spangdahlem, Panama City or Goose Bay or Olongopo. All over the world, these same buildings still stand, like unintentional monuments to a national pride that, for better or worse, doesn't really exist anymore.