A Long ride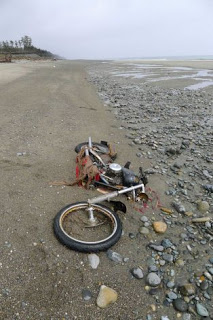 In a
story
that came out a couple days ago, a Harley that was washed out to sea in the March 2011 tsunami has made landfall. Japan to Canada, a long voyage no matter what the craft, but a truly amazing ride for a motorcycle.
4000 miles in 14 months. 
The bike was owned by Ikuo Yokoyama, who was identified by a license plate search. Mr. Yokoyama lost 3 members of his family in the wake of the tsunami and the bike must seem like a time capsule for him. "This is unmistakably mine," he told Nippon TV upon being shown photos of the beach-bound bike. "It is miraculous." The Harley is set to be shipped back to Yokoyama soon and it would not surprise me if it finds its way back to the roads of Miyagi Prefecture eventually.