A Happy dilemma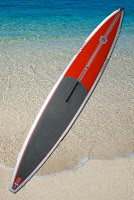 How am I supposed to decide between one paddleboard – responsive, dependable, quick and beautiful – and another that is simply perfect? I want this one, but I want that one too.
I had a similar discussion with the boy this week regarding the choice between cheesecake and a popsicle. He had picked the popsicle as his dessert
du jour
, but once he saw others at the table with their slices
of cake, he changed his mind. I tried to explain the relationship between choices and consequences to him, but I'm not sure he completely got it.
Then again, neither have I. Why is this lesson so hard to learn?