"A Good time in the mountains"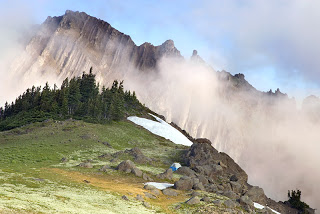 In Chinook jargon, the word Klahhane can mean a variety of things: "out of doors," "without," "outside." There is an implication within the word that describes not only a place, but the pleasure of being there. My favorite translation of Klahhane is "a good time in the mountains."
Klahhane Ridge, not far from Port Angeles, was given its name by settlers in the late 19th century and was officially entered on area maps in 1961. There is a hiking club based in Port Angeles that goes by the name as well, a group of local folks who have been having a good time in the Olympic backcountry since 1915. Their club house is situated on the shores of Lake Dawn, near Heart O' the Hills, on the way to Hurricane Ridge. On August 5, 1885, Lt. O'Neil climbed Peak 6101, located on the ridge, and named the lower western portion of the area Victor Pass, after the founder of Port Angeles, Victor Smith.
The snow is melting.