A Good day at Westport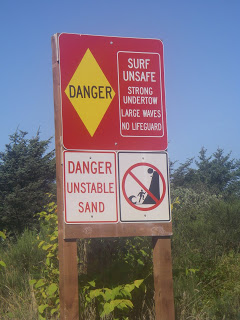 My friend Chris and I went driving yesterday. A recon trip, scouting possible surf spots down in the Tokeland area. Conditions on the water weren't great – strong currents, gusty onshore winds flattening the waves and crashing the sets. We walked into a couple different spots but nothing moved us enough to take the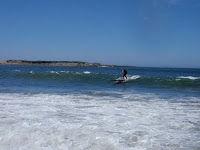 boards off of the car. So we went to Westport.
There were about two hours left on the rising tide when we got in the water. Waves were head-high and close; getting outside was difficult. After about 20 minutes and two short trash rides in the soup, we decided to launch on the other side of the jetty, in the bay just to the north. The interior of the bay was calm, a very different scene from the other side. There was an obvious break going off over near Bird Island, so that's where we went.
Westport did not disappoint. The waves ended up being 3-4 feet, lots of power but short rides. There were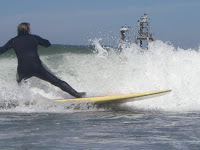 a few that I rode all the way into the shallows where I might have been on the wave for 10 seconds or so, but most rides were shorter. The water felt good though, and the sun was warm. It was one of those rare summer days when Westport feels like a real California beach town. With a few more taquerias and jasmine vines, it could be Santa Margarita, 1974.
Sure beats work on a day like this.