A Glowing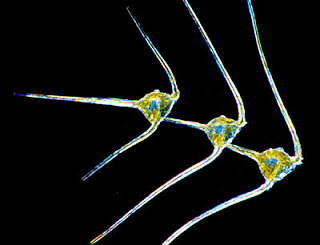 In the darkest hours of the morning, just before another gray and misty Northwest dawn, the lights that are most visible come from the water. That's where you'll find the tiny green dinoflagellates, microscopic organisms that emit a phosphorescent chemical light when they are disturbed, l
ike with my paddle. As droplets fall from the blade, they hit the water in tiny balls of primal fire, while brilliant little shooting stars wash up on the deck and a wavering glow rises up from the darkness below. The board glides on.
I remember once, a long time ago, paddling back from Vashon Island to Tacoma at night. The sky was so dark and the phosphorescence so bright and strong, Mary and I stopped at several points, just to watch the lights. To swish our paddles through the water, creating one mini-tsunami after another, and watching as the splashes we made turned to neon. Salt water alchemy. I remember it now as a warm summer night, rich in light and magic.
I went for a paddle the other morning before dawn. As I walked toward the water, and got down to where the sand was actually wet, I could see the ground light up with my every step. The dinos were everywhere, unavoidable. Since there was no one
around to see me, I started dancing on the sand from side to side, each footfall bringing with it an intense burst of green. Like some primitive (yet so advanced) version of DDR. With the sand coming alive at every step, I could have danced all night.
I've heard a few theories about when and why this phenomenon comes about. Water temperature, algae blooms, whatever. It doesn't matter to me. I rather like not knowing when I'm going to be out there with them, dipping my paddle into their swimming lanes, watching as their ancient glow shimmers in time with the music of the water.