A Counting game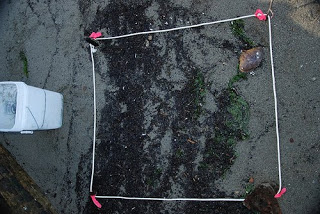 I've been doing some research, been grazing in the fields of the internet, as it were, trying to settle on a pollution sampling method that will mesh with the parameters of this summer's trip. There's a method used by the
Pangaea Exploration
that seems pretty straightforward, but it doesn't address the micro-plastic problem that is the most disturbing aspect of the issue. It focuses, rather, on the easily visible detritus along a swath of beach and is best used as a "relative indicator," according to the authors of the study. "Its value, however, lies not in accuracy, but in applicability and speed."
The other method I've been looking at comes from the
Port Townsend Marine Science Center
, and is at the other end of the accuracy and detail spectrum. It uses buckets and sifters to strain an actual beach sample, filtering out the micro-plastic debris. It is a much smaller section of beach that is examined using this method, but the perspective it gives provides a different view of the problem of plastic pollution.
I'm still thinking it over, looking for other possibilities as well. Of these two methods, the first seems more likely to fit into the rhythm of an expedition. It doesn't involve many supplies and math skills (above the 8th grade level), are not required. The second method interests me too, not only because it's local, but because micro-plastics are at the heart of the plastic pollution epidemic. It is the tiny, almost microscopic bits of polymer that are entering the food chain, that are killing fish and birds at every step in the process. As a member of the food chain, this concerns me.
There's no reason I can't try both methods, or maybe even a different technique altogether. I am curious now, and getting ready to start paddling.