A Clean beach is a happy beach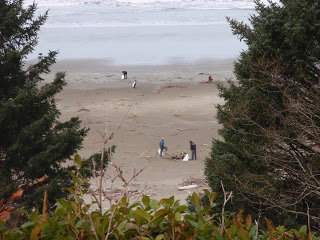 I went out to Neah Bay on Saturday. It was Earth Day and I'd wrangled the day off from the Port Angeles symposium in order to help out with the beach cleanup organized by the Surfrider Foundation. All along Highway 112, I saw other cars and trucks pulled off to the side, the drivers on the beach with plastic bags in hand (the Lions Club seemed to be especially well represented).
The turnout was impressive. All up and down Hobuck Beach, people were combing the sand, bags filling with trash. I saw one kid pulling what looked like 50 pounds of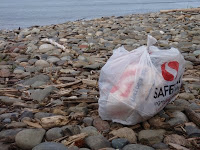 tangled nylon rope and another with a hollowed-out shell of a water heater. My little bag of trash seemed even smaller compared to their haul.
After noon, when the beach had been picked over pretty well, I decided to find a less busy spot and do some surfing. I'd brought the SUP and I really wanted to feel some waves. The surf at Neah Bay was average size, 3-4 feet, but choppy and blown out. I drove back the way I'd come, looking for a more pleasant experience on the Straits.
I found what I was looking for at Twin Rivers. This roadside spot, about 20 minutes west of Joyce, had perfect little waves that curled around a gravel point at the river mouth, small and squishy but holding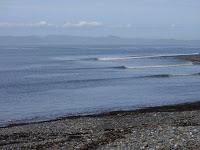 their shape on long, smooth breaks. The water outside was flat. The swells were regular, made of velvet.
I stayed for a couple hours, catching little waves and staying on them for 10, 15 even 20 seconds. Long, smooth rides that kept going, and going. It was good to put my board through a surf session after all those miles of flat-water touring, made me appreciate its capabilities all over again.