9 – 5
Got back from the family ski trip… Mary did the skiing part, I threw rocks in the river with the boy, hiked all over the town of Index and waited for trains to pass by. Which is just how we liked it. Suffice to say that we saw one very long train, hopped on many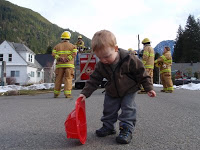 railroad ties, sat in a fire truck and moved a large number of rocks, one at a time, to deep water. A good time was had by all.
Looking at the calendar, I see that it will be another 10 days before I have time to head back out to the peninsula. Working for a living is really starting to wear on me. I remember being told as a child about how the future would bring with it more free time, how robots would do all the messy work and life would be so much easier.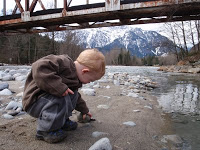 I don't know all the whys and wherefors, but it hasn't turned out that way.
Time is the most precious commodity that ever was and most people, myself included, do not appreciate how rare and fleeting it truly is. We chase money, and we trade our time to get the cash, never completely grokking the concept of what we're actually doing. If you give up an item of great value that can never be replaced in order to get something ordinary and common, you will be seen as a buffoon and a wastrel, unless you're trading time for money. We all do that, you see, so no one is pointing fingers. It's normal. It's the way it's always been.
But here's the rub: Just because we're all doing it doesn't make it right. Or sane. Warren Zevon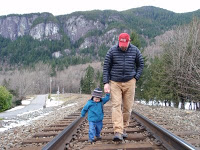 used to say that the secret to a happy life is to enjoy every sandwich. I don't know if that's the whole story but it seems closer to the truth than putting in another eight hours in the salt mine.
(Better be careful. It's thinking like this that leads to extended periods of unemployment.)