365 x 2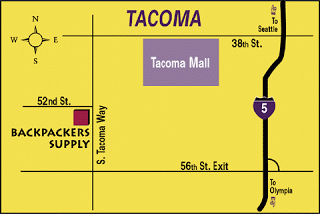 I didn't know it at the time, but when Backpackers Supply shut its doors for the last time on July 31st, 2010, it instantly became a date that I seem to be fated to always remember. An anniversary of sorts, the day that the oxygen ran out of a business and the final paychecks were distributed without any ceremony.
There's a crossfit gym in the place now – in half of the place, anyway – but I've heard rumors that it's not really doing all that well. The block or two around the old shop on South Tacoma Way is mostly shuttered storefronts with blacked-out windows. There's a pot dispensary and a couple of bars, a pawn shop and that's about it. It's urban blight, not quite Detroit, but close.
There's going to be a reunion this Labor Day, a lot of the folks who used to work at TOPS and Backpackers Supply. It's scheduled for Cannon Beach, three days, and I plan on being there. I'm sure it will involve some rum, some reminiscing and some wishing for a better turn of the cards. It was a great run while it lasted though.
I have my own shop now but I still miss that one.